Following on from a referral I agreed to travel down to Stratford upon Avon and deep clean this Travertine tiled floor which had not been professionally cleaned for over eight years and was now looking rather dull as you can see in the photograph below, additionally the holes in the travertine had not been filled and was allowing dirt to get trapped into the tile.
Cleaning, Filling and Polishing Travertine Tiles
The first job was to wash the floor down with Pro-Clean to give it a general clean and remove any surface dirt and grit from the floor and then fill the holes with a colour matching grout; there were quite a few holes to fill so this task took some time to complete. Polished Travertine is a very hard stone so restore its finish it needs to be cut back and polished using of a set of diamond encrusted burnishing pads fitted to a rotary machine. You start with a coarse pad with a little water, then a medium pad, fine pad and finish with a very fine polishing pad, this takes some time but the effect it quite transforming, it does build up slurry on the floor so it all needs to be washed down again at the end.
Sealing and Buffing Travertine Tile
To keep the floor looking good for longer and protect it from stains it does need to be sealed so once it was dry it was sealed using two coats of Tile Doctor Colour Grow which is a colour enhancing sealer that brings out the colours in natural stone. Then once the sealer was dry it was buffed using a white buffing pad to make sure that I hadn't left any residues from the seal.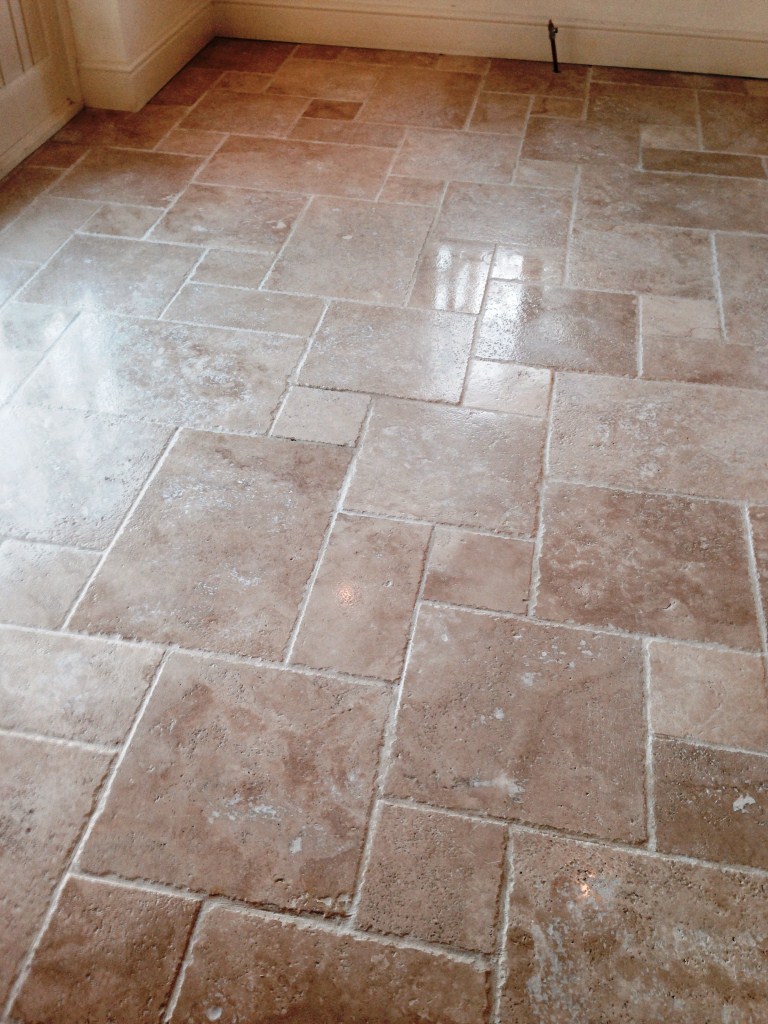 The job took three days to complete in total and I think you will agree it's now looking much healthier.
Travertine tiled floor maintained by Greater Manchester Tile Doctor